Zack Werenski Profile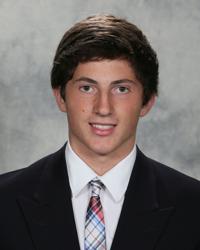 Zack Werenski
Ht/Wt:
6' 1"/206 lbs
Position:
D
Team:
USA U18 NTDP (USHL)
Zack Werenski's Player Profile
Greg Rajanen - Central Scouting:
"He's such a cool, calm and collected player. He's smart, always in the right spot, moves the puck and makes all the right plays."
Adam Kimelman of NHL.com (Apr.20th):
"An offensive-minded defender, he didnít look like the youngest player in NCAA hockey this season. Smart and skilled, he showed no panic in his game and has the potential to quarterback a team's top power play and excel in transition. He also earned a spot with the United States at the 2015 WJC and didnít look out of place."
Mike Morreale of NHL.com (Apr.20th):
"The 6-foot-2, 206-pound freshman excelled as the youngest player in college hockey. He led all Michigan defenders with 25 points (nine goals, 16 assists), had 12 power-play points, a plus-9 rating and tied for the Michigan lead with 59 blocked shots. He was named to the All-Big Ten Hockey First Team and the All-Big Ten Freshman Team."
Curtis Joe of EliteProspects
: A smooth-skating, puck-moving defenceman that has a strong understanding of the game. Excels in key situations and is able to execute under pressure. Possesses good vision and awareness on the ice; uses his abilities to put offensive and defensive pressure on the opposition. All-in-all, a very strong all-around defenceman that consistently brings his game every night.
Steve Kournianos of The Draft Analyst:
"Skill-wise, he is the draftís most tantalizing blueline prospect; more so than peers Noah Hanifin and Ivan Provorov in that heís not only taller than the aforementioned rearguards, but possibly more gifted. It is to the point where he almost comes across as nonchalant, because you are left asking yourself if itís possible to make otherwise spectacular plays seemingly effortless, and doing such on a shift-to-shift basis. In that regard, he is essentially a bigger version of Phil Housely, where a simple flick of the wrists or a pirouette while on the power play is the difference between a turning a relatively pedestrian shift into time and space in the offensive zone."
Zach Werenski Videos
Zach Werenski - 2015 WJC Highlights
Zachary Werenski - Shift by Shift
Zach Werenski - All American Prospects Game
Click here to return