Travis Konecny Profile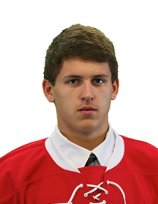 Travis Konecny
Ht/Wt:
5'10"/172 lbs
Position:
C/RW
Team:
Ottawa 67's (OHL)
Travis Konecny's Player Profile
Chris Edwards - Director of NHL CS:
"He's a highly skilled forward who never quits. He skates very well, has excellent speed, is not afraid to get involved in battles and has no fear of taking the puck to the net."
Peter Harling (Apr. 3rd):
Konecny is a prototypical Brian Kilrea type player in the mould of former Ottawa 67ís such as Alyn McCauley, Logan Couture, Mike Peca, and Sean Monahan. Konecny is a highly skilled player, but what has also made him valuable is his leadership, intensity and determination.
Konecny (pronounced Koh-Neck-Knee) was the first overall pick in the OHL draft in 2013 by Ottawa and in his rookie season he scored 70 points in 63 games played en route to winning the Rookie of the year award. Konecny was then named the Captain of team Canada at the Ivan Hlinka tournament where he scored six points in five games to lead Canada to the Gold Medal. In his draft year he has assumed the Captaincy of the Ottawa 67ís and scored 29 goals and 39 assists for 68 points in 60 games.
The high water mark for Konecny this season came at the top prospects game. Konecny stole the show scoring two goals, one assist and delivering a big time hit playing on a line with Connor McDavid and Timo Meier.
Konecny describes himself as a playmaker with skill, thatís reliable at both ends of the ice. The focus this season for Konecny has been to refine his defensive game while still providing offense. He has breakaway speed and great vision and possesses the ability to make plays or shoot while at top speed making him a dynamic offensive player. Despite his smaller size, he plays a physical style of game and is not afraid to deliver big hits and go into high traffic areas which make him a game breaker calibre player.
Bill Placzek of DraftSite.com:
"Another one of the top end elite skaters and puck movers in the class, with excellent edging, burst and agility. Has the ability to go into tight spaces and control the puck and dictate play. You will see him involved in all three zones, giving strong work ethic in his end and quick bursts to loose pucks or throw checks. His compete level is bigger than his stature so might see him getting bounced a bit along the wall in those puck battles. Simply takes no quarter. The lack of size might be an advantage when he pushes his way through crowds to reach scoring areas, receive passes, and take shots. A player who clearly has a quick release and deceptively strong wrist and snapshots, but is very comfortable distributing the puck and using his smarts to read and react to the defense with slick set-ups. There is much to like about this young man."
Travis Konecny Videos
Travis Konecny Power Play Snipe vs Kitchener
Travis Konecny - Shift By Shift
Travis Konecny levels Filip Chlapik at BMO Top Prospects Game
Travis Konecny Shorthanded Breakaway Goal vs Barrie
Click here to return