Ryan Gropp Profile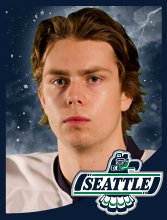 Ryan Gropp
Ht/Wt:
6' 2"/187 lbs
Position:
LW
Team:
Seattle (WHL)
Ryan Gropp's Player Profile
Analysis:
A big-bodied player at 6'3, Ryan Gropp is making a splash in the WHL and he is quickly becoming a fan-favorite with the Seattle Thunderbirds.
A potential elite-level power forward, he has all of the technical tools, as well as the natural size that lets him bulldoze his way to the front of the net, to be a constantly dangerous scoring threat. He is a tremendous blend of work ethic and tenacity (digging in deep; never giving up on the play), hockey-IQ (creative and responsible mind for the game), and skill (skating, hands, patience, and vision).
He has a presence around the net that makes it difficult for defenders not to chase or focus on him; what this does is it also creates space for his linemates, such as his current centerman, Mathew Barzal, and completes his package as a dangerous, hard-to-contain offensive winger.
When you watch the Thunderbirds play, it isn't hard to find Gropp on the ice; this isn't simply a result of his size, skating and puck skills, alone, but he makes an impact as soon as he jumps over the boards for his shift. You notice a change in the game's pace because, through complimenting his linemates like a perfectly-fitting puzzle piece, he creates innumerable scoring chances. Gropp doesn't shy away from physical play, either, and uses his rangy 6'3 frame to his advantage along the boards and in the corners. He also has a very accurate shot.
In The Past:
Gropp was born in Kamloops, BC, and played for the Penticton Vees of the BCHL before migrating to the Western Hockey League of the CHL. He was able to play against some of Western Canada's best, starting his conditioning and 'elite'-level training at a young age.
In The Future:
In due time, after at least two more years in the minors and, perhaps, a year of American Hockey League play, Ryan Gropp's incredibly high ceiling and upside will show through. He will deliver the team that drafts him an elite, dependable top-6 power forward that will become a valuable team asset for a very long time.
Who He Plays Like:
This may be quite the extravagant comparison, but I think he plays a lot like New York Rangers' forward Rick Nash, in the sense that he's very aggressive on the forecheck and difficult to play against due to his complete package.
Where Will He Be Drafted?
He should be a late first-round choice. He will be pushed down in the rankings due to the fact that there are flashier players in this year's draft, but he still has a package that will make him far more enticing to teams than many of the other players available in the late-first/early-second range.
Profile from: Curtis Joe - updated Nov. 11th
Would you like to write a player profile for any prospect that may be entering the 2015 NHL Draft? Email profiles of any player (even players not on our list) to our
Webmaster
. Credit will be given to the author of the profile.
Click here to return