Noah Hanifin Profile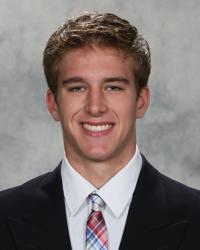 Noah Hanifin
Ht/Wt:
6' 2"/200 lbs
Position:
D
Team:
USA U18 NTDP
Noah Hanifin's Player Profile
Dan Marr - Director of NHL CS:
"Everybody looks at him and says heís a gifted offensive player, and he is, but what makes him so special is his transition game. He Ďgets ití Ė that you have to play defense first and the offense will follow."
Adam Kimelman of NHL.com (Apr.20th):
"An elite skater, and at 6-foot-2 and 203 pounds already has NHL size. He had a solid showing with the United States at the 2015 IIHF World Junior Championship."
Mike Morreale of NHL.com (Apr.20th):
"The left-shot defender had five goals, 23 points and 52 blocked shots in 37 games as a freshman with the Eagles. Scouts love his offensive ability but his defensive game is a bit underrated. Hanifin's ability to excel in pressure situations and on the transition is a strength."
Shawn Reznik of The Hockey Writers (Mar. 18th):
"The sturdy 6í2? blueliner is quite mobile. His skating propels the rest of his game. Hanifin has excellent edgework and rarely will you find him out of position. He knows how to play his angles well in the defensive zone and isnít much of a risk taker. For Hanifin, youíll oftentimes find he makes the smart, safe play that gets unnoticed.
Offensively, Hanifin is superb at carrying the puck or making outlet passes through the neutral zone. From the backend, he sees plays develop and sets up formations and cycles in the opponents end. Dictating the powerplay, Hanifin has a great shot that Iíve seen used numerous times in college, but didnít see much of it in the World Juniors."
Bill Placzek of DraftSite.com:
"Large two way defender who displays good vision and on ice smarts. Is a mobile fluid defenseman who has an excellent offensive upside to match his edgy defensive side. Four-direction skater who has great vision, poise, and makes the best plays on most shifts. Has verbally committed to Boston College."
Noah Hanifin Videos
Get to Know Me: Noah Hanifin
Noah Hanifin - Shift by Shift (with commentary)
Click here to return