Nikita Korostelev Profile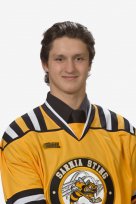 Nikita Korostelev
Ht/Wt:
6' 2"/195 lbs
Position:
RW
Team:
Sarnia (OHL)
Nikita Korostelev's Player Profile
Nikita Korostelev is a player that will rise through the draft rankings and gain a lot of attention in the 2015 NHL Draft. He is a deft skater blessed with the natural size that lets him go where he wants, when he wants, and lightning-quick hands that let him work some serious magic with the puck. He can outright dominate his opponents when he is at the top of his game, tunnel-visioning the puck on his stick to the back of the net. He plays a North American style game, but has the coveted Russian skillset that can make him look like a man amongst boys. He has incredible potential; an extremely talented forward.
Areas he may need improvement in:
Play without the puck
The mind game / Playing when his team is down
Consistency
Rating:
Skating - 5/5
Skill - 5/5
Hockey IQ - 4/5
Work Ethic - 4/5
NHL Player Comparables:
Taylor Hall, Ales Hemsky, Marian Gaborik, James van Riemsdyk, Alexander Semin
Prediction for 2015 Draft Placement:
Bottom Half of the First Round
Profile from: Curtis Joe - updated Oct. 24th
Would you like to write a player profile for any prospect that may be entering the 2015 NHL Draft? Email profiles of any player (even players not on our list) to our
Webmaster
. Credit will be given to the author of the profile.
Nikita Korostelev Videos
Korostelev hat trick
Click here to return