Nick Merkley Profile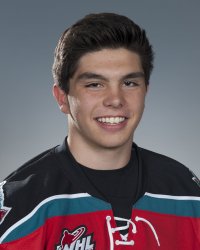 Nick Merkley
Ht/Wt:
5'10"/175 lbs
Position:
C/RW
Team:
Kelowna (WHL)
Nick Merkley's Player Profile
Curtis Joe of EliteProspects
: A playmaking center that has an excellent eye for the game; sees the ice like a hawk from above. Creates scoring chances and on-ice energy through taking advantage of puck-possession and making the most of turnovers. Incredible work ethic; will battle against larger players and isn't afraid to do the dirty work in front of the net. Does not possess the largest frame or a dynamic level of skating; however, he does boast a remarkably high level of Hockey-IQ and a deep understanding of the game. There is something left to be desired having observed his individual skills, such as puckhandling, footspeed, and decision-making, for a prolonged period of time; there is definitely room for improvement in the small areas of his game. All-in-all, Merkley brings a medley of skill, smarts, and work ethic to the table, making him an invaluable asset as a Center.
Bill Placzek of DraftSite.com:
"Undersized "Dub" centre/forward with good all around skills and edge. A good skater who can turn into the middle and dish. Very good player from behind the net, whose speed gives him opportunities as he come out. Started the 2014-15 season with league leading point / assist totals. Shorter but very thick. Very willing to get froggy for his team when they are down in a contest and they need some physical. His fireplug frame gives strong body contact and also absorbs the ones returned. A player we will be watching.
Nick Merkley Videos
Rockets Nick Merkley
Nick Merkley Goal + 3 Assists vs Brandon (10/25/14)
Nick Merkley Goal + 2 Assists vs Vancouver
Kelowna Rockets Nick Merkley
Click here to return