Mitch Marner Profile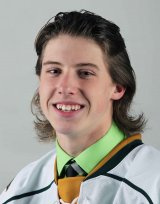 Mitch Marner
Ht/Wt:
5'10"/164 lbs
Position:
C/RW
Team:
London (OHL)
Mitch Marner's Player Profile
Dan Marr - Director of NHL CS:
"High end skill set with puck handling and playmaking ability. Plays bigger than his size and is not afraid to get involved in traffic or battle for pucks. He is an excellent skater with very good quickness and agility. He possesses some of the quickest hands in this year's draft class."
Adam Kimelman of NHL.com (Apr.20th):
"A small but dynamic scorer who has earned comparisons to Patrick Kane of the Chicago Blackhawks ... Marner has been lauded for his great vision and passing ability as well as his underrated shot. He's grown four inches and added 15 pounds since being picked by London in the 2013 OHL draft, so he could hit another growth spurt."
Mike Morreale of NHL.com (Apr.20th):
"A 5-11, 160-pound two-way forward, he finished second in the OHL with 82 assists and 126 points in 63 games. He has 128 assists and 185 points in 127 career OHL games. Prior to sustaining an upper-body injury April 9 he had nine goals and 16 points in seven OHL playoff games. He's often compared to former Knights player and current Chicago Blackhawks star Patrick Kane."
Peter Harling (Apr. 3rd)
Marner is a supremely talented offensive player, who probably would have won the OHL scoring title if he played all 68 games. Marner finished second overall with 44 goals and 82 assists for 126 points in 63 games.
The knock on Marner is his size, at 5'11" he lacks the ideal size the other centers in the draft possess, but since he was drafted into the OHL he has gained an additional 5 inches and 30 pounds suggesting he may not be done growing.
Marners strengths are his offensive skills and his vision. He has the ability to read and react and see plays develop before they happen. Assets that lend to his natural playmaking abilities are his elite level vision, puck control, elusive skating ability and passing. Marner is also an underrated goal scorer despite having scored 44 goals. His shot is NHL caliber in that it is very accurate allowing him to score goals most players cannot.
Another asset to Marners game is his defensive inclination. The same vision that allows him to make dynamic offensive highlight reel type plays, also allows him to anticipate, read and react in the defensive zone, making him a threat in all three zones.
The player in the NHL Marner compares himself to is Chicago Blackhawks Patrick Kane. Both players are 5'11 and with some time and work Marner can close the gap on the weight difference of 17 pounds. It may take Marner a year or two to arrive in the NHL, but when he does he should be an offensive force for years to come.
Curtis Joe of EliteProspects
: A dynamic offensive forward that backchecks hard and establishes his presence through playing smart, puck-possession hockey. A very quick skater gifted with great hands and hockey sense. Battles hard in all three zones and shows a willingness to do whatever it takes to get the puck to the back of the net; an unselfish player. Embodies the definition of a dynamic number-generating machine who makes the players around him better.
Mitch Marner Videos
Mitchell Marner #93 | London Knights Highlights
Mitch Marner highlights
Mitchell Marner - Shift By Shift
Mitchell Marner 4 Goal Game 2014.11.21
Mitchell Marner Sweet Goal vs Sault Ste. Marie (1/12/14)
Click here to return