Mathew Barzal Profile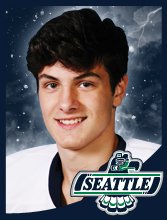 Mathew Barzal
Ht/Wt:
5'11"/174 lbs
Position:
C
Team:
Seattle (WHL)
Mathew Brazal's Player Profile
John Williams - Central Scouting:
"He's the best skater I've seen in the WHL in terms of his east-west game while creating time and space with his feet. He has great vision and puck skills."
Adam Kimelman of NHL.com (Apr.20th):
"Injuries limited the 5-11, 175-pound forward to 44 games but he had 57 points. A dynamic offensive performer when healthy, he has shown an ability to raise his play when surrounded by better players."
Mike Morreale of NHL.com (Apr.20th):
"A fantastic east-to-west skater with the capability of creating time and space for linemates. The 5-11, 175-pound right-shot forward was the top center for the Thunderbirds. He has great vision, puck skills and playmaking ability. He had 45 assists and 57 points in 44 regular-season games, and scored four goals in six WHL playoff games."
Steve Kournianos of The Draft Analyst:
Barzal is a smooth-skating playmaker who boasts superior playmaking ability. He plays a smart, disciplined game, specifically when controlling the puck. Possesses excellent hockey sense. Can run a power play and is highly effective at entering the zone with either speed or patience. Great vision. Can stop on a dime and thread the needle through traffic and over long distances. Extremely dangerous player in the offensive zone. Very hard to telegraph. A student of the game. Not very physical and while he does compete in puck battles, he will need to add strength to improve his board play. He also has a tendency to force things, such as overpassing and dangerously walk the puck along the offensive blue line into heavy traffic. Possesses an accurate shot but does not use it enough.
Mathew Barzal Videos
Mathew Barzal Goal + Assist vs Edmonton
Mathew Barzal pred Memoriálom Ivana Hlinku 2014
Mathew Barzal Nice Shorthanded Breakaway Goal vs Spokane
Mathew Barzal 2013-14
Click here to return