Jordan Greenway Profile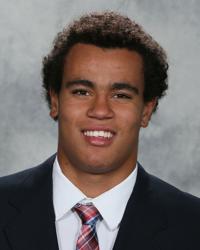 Jordan Greenway
Ht/Wt:
6' 5"/222 lbs
Position:
LW
Team:
USA U18 NTDP (USHL)
Jordan Greenway's Player Profile
Jordan Greenway is a player of great size, possessing very good skills and decent vision. He is a player that would look very nice in the top ten if he were to improve his consistency and be all he could be most of the time. Where he ends up on draft day is still a mystery, a mystery that only Jordan can solve. Jordan has started the season at almost a point a game pace after eight points after nine games.
Profile from: Eldon MacDonald of The Hockey Writers - updated Oct. 19th
Jordan be nimble, Jordan be quick but what Jordan brings is truly unique. A big, smooth skating, skilled winger who can dominate from the circles down in the offensive zone and really challenges defenders to negate him. As he continues to develop, he has the potential be a 'tour de force' who can impact the game multiple ways with skill and power. Upside can be an overused 'buzz' word when scouting prospects but not in the case of Jordan.
Analysis: Craig Button - TSNs Direct of Scouting - updated Sept. 25th
Would you like to write a player profile for any prospect that may be entering the 2015 NHL Draft? Email profiles of any player (even players not on our list) to our
Webmaster
. Credit will be given to the author of the profile.
Jordan Greenway Videos
Jordan Greenway interview
Jordan Greenway goal - U17 exhibition game
Click here to return