Jeremy Bracco Profile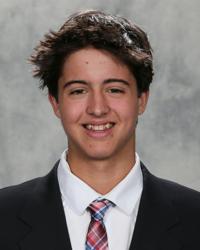 Jeremy Bracco
Ht/Wt:
5' 9"/156 lbs
Position:
C/RW
Team:
USA U18 NTDP
Jeremy Bracco's Player Profile
Steve Kournianos of The Draft Analyst:
"He is a tireless worker with enough grittiness and compete level equal to the Barzal/Marner/Merkley class of undersized playmakers, as are his vision, patience and puck control. Bracco has a very good wrist shot and he seems to favor it, but he can release a hard, accurate backhand. He can also elevate the puck from in close, whether shooting from at or near is feet or overextended. These offensive tools serve him well in the battlefields below the circles, where real estate is at a premium and provides little solace for the unskilled ... He is a very good skater with breakaway speed; extremely elusive and shifty in the offensive zone; enough to slip through or around defenders with superior puckhandling and puck protection."
Bill Placzek of DraftSite.com:
"Early on, there have been many comparisons of this youngster to Patrick Kane. I think that is big stretch but I do see skills in him that might warrant the comparison. He is an undersized player with flash, magician-like soft hands and superb stick-handling skills that cause defenders fit in one-on-one situations. Takes full advantage of his light frame and quick feet to blow by defenders. There is much more to the pro game like unearthing pucks and working physically along the boards to gain possession, and handling your man on the backcheck. This is the part of his game that determine where a team selects him. A member of his homelandís team roster for the World Junior Under-20 at Christmas 2014."
Click here to return