Jack Eichel Profile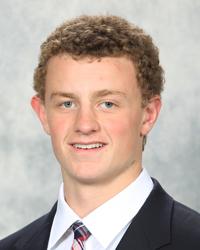 Jack Eichel
Ht/Wt:
6' 2"/193 lbs
Position:
C
Team:
Boston Univ.
Jack Eichel's Player Profile
Dan Marr - Director of NHL CS:
"He is proving to be such an amazing game-breaker; heís relentless and driven on the play and has the smarts, speed and skills to deliver a needed scoring drive to tie up or win a game."
Adam Kimelman of NHL.com (Apr.20th):
"The best player in college hockey, Eichel has the skill to jump right into an NHL lineup. He led all college players with 71 points, and his NCAA-best 1.77 point-per-game average was the best by a freshman in more than 20 years. Has outstanding playmaking skills but also knows how to put the puck in net."
Mike Morreale of NHL.com (Apr.20th):
"The 18-year-old became the first freshman since Paul Kariya in 1992-93 to win the Hobey Baker Award as college hockey's best player. He also was Hockey East Player of the Year, Hockey East Rookie of the Year and Hockey East Tournament MVP. He led all college players with 45 assists, 71 points, a plus-51 rating, 23 power-play points and a 1.77 point-per-game average."
Steve Kournianos of The Draft Analyst:
"He has an uncanny ability to change the complexion of a game at a momentís notice with or without the puck. Possesses a heavy, accurate shot with a quick release, and is adept at getting it through screens and clogged shooting lanes. Does not need backswing to generate velocity, and the deceptiveness of his off-wing wrist shot is reminiscent of Mark Messier. He is an excellent skater with breakaway speed and NHL-caliber leg drive. Eichel can also cover a lot of ground in little time. Tremendous playmaker with superior vision, Eichel finds the open man, even with his back turned while drawing two or three defenders towards him. He is an outstanding puck handler with a variety of moves to beat you one-on-one or one-on-four. Is a great option in the defensive zone due to his long reach, excellent faceoff abilities and strength along the boards."
Curtis Joe of EliteProspects
: "When Jack Eichel is on the ice, the pace of the play shifts; if players can't keep up, they are left behind. A consistent scoring threat on the ice, Eichel possesses next-level hockey-IQ, an elite-level skillset, and the natural size and work ethic to let him play his role as a scoring power center. All-in-all, Jack Eichel is that uncontainable, dynamic center that can make other players look out of place in his wake."
Jack Eichel Videos
Get to Know Me: Jack Eichel
Jack Eichel - 2015 WJC Highlights
Jack Eichel #9 | The Future Superstar
BU Hockey's Freshman Phenom
Jack Eichel 5 Primary Assists vs St. Thomas (10/4/14)
Jack Eichel 2014 WJC U20 Highlights
Click here to return