Connor McDavid Profile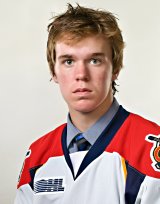 Connor McDavid
Ht/Wt:
6' 0"/185 lbs
Position:
C
Team:
Erie (OHL)
Connor McDavid's Player Profile
Dan Marr - Director of NHL CS:
"He's a craftsman with the puck. His hockey sense, with his vision, his anticipation, his sense of timing and the ability to do those things at a top-end speed, you're looking at the best skilled player in the draft."
Adam Kimelman of NHL.com (Apr.20th):
"McDavid's 120 points were nine less than the Ontario Hockey League leader despite playing 21 fewer games. He also excelled against older top competition playing for Canada at the 2015 IIHF World Junior Championship, tying for the tournament scoring lead."
Mike Morreale of NHL.com (Apr.20th):
"McDavid, regarded as the top draft prospect since Sidney Crosby, has game-changing potential. He was third in the Ontario Hockey League in the regular season with 120 points despite playing 47 games. He's been even better in the OHL playoffs; he had 11 points in a four-game sweep of London and leads all players in goals and points."
Curtis Joe of EliteProspects
: A generational talent, Connor McDavid is a catalyst for positive plays in all three zones. Thinks the game analytically and recognizes scoring chances before they have even happened. Blessed with good size and an elite-level skillset, which includes nimble skating and deft puckhandling. All-in-all, a dominant center with all of the will, power, and intangibles to become a successful hockey luminary.
Steve Kournianos of The Draft Analyst:
Brilliant, graceful and imaginative offensive machine who has produced one of the finest amateur resumes in recent memory. Hard to convey his dominance in words; you just have to watch him play one shift and it will encompass all the reasons why he's a special talent. McDavid is an explosive skater with breakaway speed, but his balance and ability to control the puck at the highest of speeds is unmatched in this draft. He is also extremely shifty and can change gears effortlessly, especially to the outside. One of the best players in the world at any level at chipping and retrieving the puck to an open area, then turning it into a high-quality scoring chance. Is an elite playmaker who makes hard, crisp passes on both forehand and backhand. Extremely difficult to contain and seal off, McDavid is a highly-intelligent player who can outwork and outmaneuver any opposing shadow or checking assignment. His play without the puck is excellent; the puck doesn't just seem to find him. It happens because his superior vision and keen understanding places him where the puck can only go."
Eldon MacDonald of The Hockey Writers (Feb. 15th):
Offense
– One word, elite. Add up the elites and the resultant is a dominant game.
Skating – Acceleration, top speed, change in speeds, agility, edges, balance, low centre of gravity.
Passing – Crisp, on the tape, cerebral.
Stickhandling – All the dangles, all at top speed or at a change of pace, in tight, puck protection.
Vision – Just sees those soft spots in the defense and has the hockey IQ and physical skills to exploit them Connor is currently more a pass first centre but is working hard to make his shot a bigger part of his repertoire. Sound familiar?
Defense – His best defense is that his line has the puck all the time. In addition, Connor gives you the 200 foot effort and shows the intensity and determination no matter where the puck is.
Connor McDavid Videos
Connor McDavid- 2015 WJC Highlights
Connor McDavid Ultimate Highlights
Connor McDavid Feature Pt 1 Dec 26, 2014
Connor McDavid Feature Pt 2 Dec 26, 2014
Connor McDavid Feature Pt 3 Dec 26, 2014
Connor McDavid with a 4 Goal, 6 Point Night
Connor McDavid Isolation Video, 2015 NHL Draft
Click here to return