Colin White Profile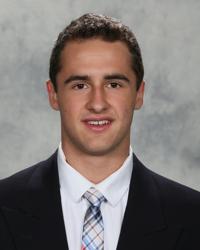 Colin White
Ht/Wt:
6' 0"/175 lbs
Position:
C/RW
Team:
USA U18 NTDP
Colin White's Player Profile
Dennis Schellenberg of Scouting-Factory.Blogspot.ch (May 3rd): Strengths
1. Shot
2. Two-Way Game
3. Strength/Balance
Area's For Improvement
1. No High End Skills
2. Too many scoring chances not executed
3. Puckhandling
Scouting Report:
A good two-way forward with good work ethic who plays a smart game in all three zones. Possesses a powerful, accurate shot and shows good defensive mind. Is a good skater with decent speed and strong on his knees. Isn't afraid to play with a physical edge and is hard to knock off the puck. Is good around the net and often utilizes rebounds. He has no high end skills and leaves too many chances unutulized. Isn't the biggest guy on the ice but this is not going to stop him to work hard, play physical and go in front of the net. Has the full package and can be a very competitive two-way forward.
NHL Potential:
Two-Way Forward, who works good in all three zones and possesses a good shot.
Bill Placzek of DraftSite.com:
"Possesses average size, but high end skills and smarts. Opportunistic scorer who can make plays at high speed with some edge. Moves well laterally, and has a quick stick to control loose pucks, and cause turnovers. Anticipates the pass and needs little time to unload his big-time shot. Possesses a quick release and superb accurancy with his shots. Top player on US Under-17 Team in the past. A solid forechecker and responsible two-way centre. Pressures the opposition and steals pucks that he quickly turns into scoring opportunities. Very strong on the puck because of his solid skating and balance. Projects as a NHL point producer. Committed to Boston College."
Colin White Videos
USHL Player Profile: Colin White
Colin White Shootout Goal - U.S. National Under-17 Team
Click here to return