Travis Sanheim Profile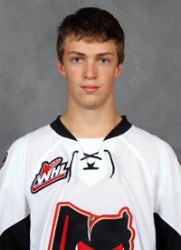 Travis Sanheim
Ht/Wt:
6' 3"/190 lbs
Position:
D
Team:
Calgary (WHL)
Travis Sanheim's Player Profile
The Late Arrival – First 31 games, 2 assists and a +6. Then they let him play: 36 games, 27 points and a +19.
Offense – Travis started to blossom when they started to use him – great shot on the PP, the skating ability to join the rush, good passing ability – still raw so the best is yet to come.
Defense – NHL size at 6'3, 189 lb., solid one-on-one, good stick.
Draft placement – I don't know, Travis just keeps getting better so just when you think that you have him pegged, he ups his game. Second round, at least, for sure – earlier rather than later for me.
Post U18 WJC update – After his play for Team Canada at the U18 WJC in Finland for Team Canada, I think Travis will be getting serious consideration for round one. Afterall, all he did was: Lead Team Canada in plus/minus with a +5 in seven games.Tied for the team lead in points (6) with his Calgary Hitman teammate, Jake Virtanen.Get named by opposing coaches as one of Canada's three best players (the others were Haydn Fleury and Mason MacDonald).Demonstrate a high if not elite level of vision and creativity.Show he was a player to be counted upon when the game was on the line. These last two things will be talked about a lot by scouts, a lot.
Profile from: Eldon MacDonald and Chris Ralph of The Hockey Writers - updated May 15th
Would you like to write a player profile for any prospect that may be entering the 2014 NHL Draft? Email profiles of any player (even players not on our list) to our
Webmaster
. Credit will be given to the author of the profile.
Travis Sanheim Videos
Travis Sanheim 2013-2014 WHL Highlights
Travis Sanheim #32 2013-14
Click here to return