Madison Bowey Profile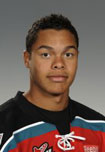 Madison Bowey
Ht/Wt:
6' 1"/194 lbs
Position:
D
Team:
Kelowna (WHL)
Madison Bowey's Player Profile
Bowey is a dynamic defenseman who has continued to improve his overall game. His best asset is his skating abilities, which he uses with and without the puck to be a force for the Rockets every game.
In an interview with HockeyProspect, Madison has acknowledged that he has been focusing on playing a more solid game in his own end this season and letting the play come to him, which he has definitely improved on since last year. Offensively, Bowey is very fun to watch. He loves to skate with the puck and add another dimension to the Rockets' transition attack with his speed. He moves the puck very well when necessary, and is an important piece to their power play. Bowey sees the ice well and identifies open lanes and makes very good back door passes. He takes some risks at times that does not always pay off, but they are rarely terrible mistakes that result in great scoring chances for the other team. Bowey is mobile along the blueline, and makes it difficult for opposing forwards to cover him because he could move laterally or move down the boards with the puck in a hurry. He has so many options due to his speed, that opponents are half a step late in trying to read what his next move will be.
Bowey's game without the puck has come a long way from the start of the season. He does not chase the puck as much as he did, and lets the play come to him instead. He has done a great job in playing between the dots instead of trying to land big open ice hits and getting caught out of position. He still likes to take chances in the neutral zone to create turnovers and start a transition the other way, but he takes low risk, high reward gambles. He is strong along the walls and has a bit of an edge to his game, and is not afraid to get into an opponent's face and make it difficult to play against him. The aspect of his game that is fun to watch is that he plays with such a great level of energy. Even when he may be playing his 3rd game in 3 nights, he plays with the same enthusiasm consistently and it looks like he really enjoys playing the game. He back checks hard if he is ever caught in a bad position in the neutral zone, and quickly jumps into the play when he sees a lane that he can attack.
Submitted by: Hockey Prospect ... from their Black Book
Bowey is a gifted defenseman with a lot of upside. He still has a few kinks in his game, but there are some scouts who rave about him. He is a quality skater, if not high end, with a powerful stride, good balance, four-way bursts, and above-average top speed that enables him to close gaps quickly. He shows a willingness to engage, that along with a solid strength level, can help him erase checks off of pucks effectively. He also makes plays as a stick checker. Bowey has very good ability as a puck mover, whether he is rushing the puck out of his own zone, or moving it around on the power play. When he is on his game, his offensive hockey sense can be sterling. He has what one scout describes as a heavy shot from the blue line, adding to his multi-dimensional offensive ability. However, scouts have concerns about his defensive play, particularly in his risky decision-making—he sometimes gambles ineffectively when deciding to pinch or rush. His defensive zone play is not bad, but he is inconsistent with his positioning. Still, it is important to note that he did improve on that skill in the second half of this season.
Submitted by: Corey Pronman of Hockey Prospectus. Click here for Pronman's draft rankings
Very smooth skater already has a pro stride… Does a great job advancing the puck and using his agility in defensive coverage… Not an elite offensive player but should be a capable 2nd unit PP player… Possesses tremendous athletic upside… Needs to continue to improve dzone positioning.
Submitted by: The Scouting Report
Would you like to write a player profile for any prospect that may be entering the 2013 NHL Draft? Email profiles of any player (even players not on our list) to our
Webmaster
. Credit will be given to the author of the profile.
Madison Bowey Videos
Madison Bowey Prospects
Madison Bowey vs Ryan Hanes Feb 10, 2012
Click here to return