Malcolm Subban Profile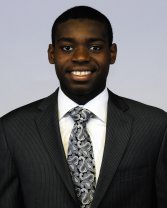 Malcolm Subban
Ht/Wt:
6' 1"/178 lbs
Position:
G
Team:
Belleville (OHL)
Malcolm Subban's Player Profile
The younger brother of Montreal Canadiens defenceman P.K., Malcolm Subban went against the family mould of blueliners and became a goaltender. He may be smaller than most netminders in Canadian junior hockey but he uses his smaller stature to his advantage. Subban has really solid technique that includes quick feet and agile positioning. He squeezes tight in the butterfly and he uses his lower centre of gravity to pull the puck into his body. He has stellar reflexes which makes his glove hand very fast. Subban moves from post to post with fluidity and he watches the play closely. However, he does need to improve on watching the play while being screened as he tends to stand in his crease without trying to look around the player in front of him. Most goals that go in on him are ones that go high since he is a smaller goalie. He also needs to work some more on his rebound control as he gives out big rebounds on a consistent basis. Subban is not flashy in the crease but he gets his job done. His play in 2010-11 as a rookie was so impressive that the Belleville Bulls traded Tyson Teichmann to the Erie Otters during the offseason. He will surely challenge newly acquired John Chartrand and CCHL sensation Daniel Altshuller for the #1 job in 2011-12.
Submitted by: Margann Laurissa
Would you like to write a player profile for any prospect that may be entering the 2012 NHL Draft? Email profiles of any player (even players not on our list) to our
Webmaster
. Credit will be given to the author of the profile.
Malcolm Subban Videos
NHL 2012 Entry Draft Profile: Malcolm Subban
2012 NHL Draft - Malcolm Subban Belleville Bulls
Malcolm Subban Profile
Subban: The Next Hockey Family
Click here to return