Adam Pelech Profile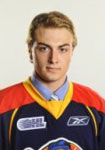 Adam Pelech
Ht/Wt:
6' 1"/198 lbs
Position:
D
Team:
Erie (OHL)
Adam Pelech's Player Profile
Adam Pelech comes from considerable hockey pedigree. His two brothers, Matt and Michael, are both NHL prospects; additionally, he is the nephew of Vancouver Canucks general manager Mike Gillis. Pelech has been a considerable force on the blueline for the Erie Otters over the last two seasons and, while he is not exactly the most offensively dynamic player, it is his strong play away from the puck that makes him a highly ranked prospect. His plus/minus may not be indicative of how well he has played over the last two years, especially since the Otters have not been great as a collective. Pelech has solid passing ability and he is able to quarterback a powerplay with ease, taking care of his own end quite well. He may not be a complete offensive force but, that being said, it is a great antithesis to the offensive-minded defencemen that are in abundance for the first round of the draft. While Pelech is quite intelligent on the ice, it is his off-ice intelligence that has garnered him considerable acclaim; he became the first player in OHL history to win both the Ivan Tennant Memorial Award for top high school athlete and the Bobby Smith Trophy for the OHL's athlete of the year in the same season.
Submitted by: Margann Laurissa
Would you like to write a player profile for any prospect that may be entering the 2012 NHL Draft? Email profiles of any player (even players not on our list) to our
Webmaster
. Credit will be given to the author of the profile.
Adam Pelech Videos
NHL 2012 Entry Draft Profile: Adam Pelech [HD]
Matt Pelech vs. Adam Keefe
Adam Pelech vs Eric Diodati
Click here to return