Rocco Grimaldi Profile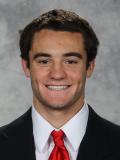 Rocco Grimaldi
Ht/Wt:
5' 6"/157 lbs
Position:
F
Team:
USA U-18 ( USHL )
Rocco Grimaldi's Player Profile
One of this years smallest forwards but his skill is top notch. Standing only 5'6 , Grimaldi possesses great speed and plays a two way game. He is extremely fun to watch and you notice him on every shift. If he was a bigger player, Rocco would be considered as a top 10 pick, his size may lead him to dropping a bit in the draft but some General Manager will fall in love with this kid's talent. He had a very strong U18 and will raise in the rankings before the draft. His rights are owned by the Portland Winterhawks of the WHL but Grimaldi will be playing NCAA hockey next year.
Submitted by: Jeff Bomben
Would you like to write a player profile for any prospect that may be entering the 2011 NHL Draft? Email profiles of any player (even players not on our list) to our
Webmaster
. Credit will be given to the author of the profile.
Rocco Grimaldi Videos
Rocco Grimaldi goal vs Sweden at 2010 U-18 final (2010-04-23)
Rocco Grimaldi goal vs Des Moines November 28th 2009
Click here to return