Rickard Rakell Profile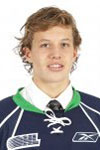 Rickard Rakell
Ht/Wt:
6' 1"/190 lbs
Position:
RW
Team:
Plymouth (OHL)
Rickard Rakell's Player Profile
I saw Rickard Rakell play the exhibition game in St. Catharine's for Sweden's World Junior Team (mid-Dec.), he is 1 of 2 1993 born to make the team. He is an exceptional player with a lot of speed and pretty good size. As soon as he jumps on the ice, he goes really hard providing a lot of energy out there. Is a good passer, uses his body well, and is a great overall player. I don't know if the scouts will give him 1st round predictions right now, but he is a great player. If he does not go in the first round, without a doubt I believe he'll go second round. Having Dougie Hamilton and Ryan Strome on my hometown team where I get to see every game, Rakell doesn't look far off from them.
Would you like to write a player profile for any prospect that may be entering the 2011 NHL Draft? Email profiles of any player (even players not on our list) to our
Webmaster
. Credit will be given to the author of the profile.
Rickard Rakell Videos
Rickard Rakell - 2nd goal in clip
Click here to return